| | |
| --- | --- |
| | Top 16 Hacker Holiday Gifts of 2018 |
F
or the uninitiated, it can be difficult to buy that special hacker in your life a perfect holiday gift. That's why we've taken out the guesswork and curated a list of the top 20 most popular items our readers are buying. Whether you're buying a gift for a friend or have been dying to share this list with someone shopping for you, we've got you covered with our 2018 selection of hacker holiday gifts.

For more ideas, make sure to check out our holiday hacker gift guide from last year, as well as Distortion's excellent post for gear every hacker should try out. As for this year's recommendations, they're split up into different price points, so you can jump to each using the following links.
Jump links:

Under $50 | $51–$100 | $101–$350 | Laptops $350+ | Any Amount
Stocking Stuffers Under $50
We'll start with the most affordable items. They're great gifts for those on a budget and cheap enough that you can afford to put a little hacking cheer in everyone's stocking this year.
Option 1  USB Rubber Ducky
Since its introduction in 2010, the USB Rubber Ducky has become nearly ubiquitous among hackers, penetration testers, and other IT professionals. It's a small generic looking flash drive, but hiding under the shell is a powerful keystroke injection tool. We love the $44.99 USB Rubber Ducky for its simplicity and versatility as a hacking, automation, and education tool.

If your favorite hacker doesn't have one, they need one, so grab them one while you can. Bonus points if you give them a headstart by linking them to our guides on writing and encoding Ducky Script, automating hacking functions on a Kali Raspberry Pi, and even the Ducky Script we wrote to steal macOS files.
USB Rubber Ducky - MSPR $44.99 (Hak5)
Option 2 Raspberry Pi Model 3 A+
The Raspberry Pi is an extremely popular single board computer. Thus any hacker, maker, or computer science enthusiast in your life is likely to have one already … except for the brand new model 3 A+ that is.

The 3 A+ was only recently released, and very few people have their hands on one yet, which makes it an excellent gift for any Pi enthusiast. The 3 A+ strikes a great balance between the Raspberry Pi Zero W and the full fledge Raspberry Pi 3 B+. It has the same processor and wireless connectivity as the 3 B+ but in a much smaller and particularly slimmer form factor; This makes its size more comparable to a Pi Zero, and at

$25

it's a bargain you can't pass up if you can find it available.
Option 3 Panda Wireless PAU09
This Panda PAU09 wireless network adapter is perfect for anyone interested in starting down the wonderful road of Wi-Fi hacking. The adapter supports both 2.4 and 5 GHz, and it's completely compatible with Kali Linux. Additionally, both antennas mount externally which allows you the freedom to upgrade to more sensitive antennas in the future.

At $49.99, it isn't the cheapest, but we think the price is well worth it. If that's too much for you, then check out our guide on buying Wi-Fi adapters for some alternatives.
Option 4 Hacker Swag
All geeks love their swag and hackers are no different. So if you're the kind of person that's inclined to buy socks or ties as a gift, consider buying some themed hacker and computer science T-shirts or hoodies from Zero Day Clothing or Hacker Stickers.

Honestly, anything from either of these sites is certain to delight anyone's inner nerd. The best part is, the price is right, so you can easily find something on either website to fit any budget from as low as $2 to $6 for some stickers to $50 for a hoodie. You can even find some swag on Amazon if you prefer that.
Option 5 Mission Darkness Faraday Bag
If your hacker is consistently going to cons or has a healthy paranoia about their wireless signals, then consider buying them a Faraday bag. Think of these bags as a container for wireless signals — put a phone in and it would immediately lose all wireless connectivity, in theory; This makes it extremely useful when you're going to cons, and you want to make sure that your primary electronics make it out unharmed. You can learn more about them in the video below.

The Mission Darkness Non-Window Faraday Bag for Phones by MOS Equipment is a great choice at $22.99. It will properly block all of the wireless spectrum and is big enough to hold your phone, passport, and any other RFID or Bluetooth-enabled devices you might carry around. The company also sells other models and ones for keyfobs and more.
Option 6 Gunner Computer Glasses
Being a hacker can be rough on the eyes, particularly when we're sitting at a computer all day staring at a screen into the wee hours of the morning. Some research suggests that the strain can be relieved by filtering out the amount of blue light that hits your eyes. Gunnar Optiks has created a line of computer and gaming glasses that do just that with the goal of preventing injury to your eyes and the side effects of intense prolonged blue light exposure.

If you do notice your favorite hacker has red eyes, is constantly complaining about headaches, or you're generally concerned about their well-being, consider showing them you care by buying them a pair of protective glasses from GUNNAR Optiks. Below are its cheapest models, but they have a large selection going all the way up to $249 each.
Option 7 A Book on Hacking from No Starch Press
It may seem convoluted and needlessly old school to give a hacker a book, but these books from No Starch Press continue to be a great way to learn. Topics include open source/Linux, security, hacking, programming, alternative operating systems, and science and math, which makes it easy to find something for your favroite know it all that doesn't quite know everything yet.

Books by No Starch Press, in particular, are known for their personality and attitude which makes them a joy to read and worthy of display. From $35 to $50, they make great addiotions to any bookshelf — and everyone loves the gift of knowledge.
Gifts from $51–$100
Since some of the items above are cheaper, there's a decent chance that the hacker in your life already has a few of them. So, if you can afford to spend a little bit more for the holidays, these are some of the best options.
Option 8 A Year of VPN Service
Virtual private networks are damn useful, as they provide the privacy and anonymity that many security-conscious people expect. No one wants your service provider selling your browsing history, and VPN companies like Private Internet Access, IVPN, and Tor Guard give you the ability to hide your traffic both from your ISP and from snoops over open or shared Wi-Fi networks.

Prices range from $3.33 a month for PIA to $9.99 for Tor Guard (for a yearly subscription). They frequently go on sale for as much as 60% off, so for the budget-conscious, be sure to check all three when you're purchasing. All VPNs include a proxy server to hide your IP for application-specific tasks like torrenting Kali ISOs, and with a VPN server, you can combine with Tor with Whonix to make a fully anonymous Kali box.
PIA is the best compromise of value, features, and usability. IVPN will provide the fast connections and is easy to use on every major platform, making it a great alternative to PIA. Tor Guard isn't as easy to use, particularly for iOS users, but it makes up for it buy supporting ChromeOS. The Wirecutter has a great review of VPNs if you're looking for more detail. No matter your choice of VPN, no hacker will be upset with the gift.
Option 9 Raspberry Pi Model 3 B+ Starter Kit
If you really love your hacker friends, you won't make them run around buying accessories before they can get started, which is why we recommend CanaKit's 32 GB Raspberry Pi 3 B+ Starter Kit for $79.99. It has everything a hacker needs to get started with the Raspberry Pi platform, including the biggest and baddest Pi, the Model 3 B+, a 32 GB microSD card, a case, and the wires and adapters needed. All they need to do is follow our guide to getting started with ethical hacking.
CanaKit also has other kits available for the Raspberry Pi 3 B+, from as simple as one that has a power supply to one that goes above and beyond the kit mentioned above.
Option 10 Dope Scope
The Dope Scope is a nifty $60 directional Wi-Fi scanner that is amazingly useful for doing quick wireless reconnaissance. It's small, about the size of two matchboxes, and when you hold it up to your eye, it reveals a screen much like VR glasses except it shows you all of the Wi-Fi networks with their corresponding signal strength.

A tool like the Dope Scope makes it incredibly useful for determining where an access point is in the physical environment around you. It's also super useful helpful when you're trying to set up directional antennas like a Yagi for attacking a network. You can even play some fun games, such as Fox Hunt if you have several of these; Have one person hide in a crowd with an access point, give all the other participants Dope Scopes, then have them hunt down the "fox."
Option 11 Hacker Box
We've all seen the monthly subscription boxes at this point, and now there's even one for hackers. HackerBoxes is a DIY electronics and computer technology subscription which provides monthly shipments of curated projects, components, modules, tools, and exclusive items. You can purchase monthly boxes for $44 and boxes from previous months for $59. So if you're bad at picking gifts, pick this and let someone else do the hard work for you.
Option 12 ITS Tactical SPIE Kit
Lockpicks and lockpicking are a part of hacker culture, and a quality pair of lockpicks will likely score you some serious points with the hackers in your life. For even more points, take it to the next level by providing them the whole kit and caboodle.

The ITS Tactical Special Purpose Insertion Extraction Kit is designed to have all the tools required during an escape and division scenario, allowing anyone to escape, including illegal restraint. The kit includes handcuff keys, shims to bypass padlocks, and can be configured with a pair of our favorite lock picks the Bogotas. At $69.98 for the kit and pouch plus $34.99–$39.99 if you choose to add the Bogota Entry Toolkit, this isn't the cheapest gift, but if they ever do need to use it, it will be money well spent.
Gifts from $101–$350

Now that we've gotten away from stocking stuffers and the next-tier of hacking gifts, it's time for the serious guns. These are more pricey and could break the bank, but these are likely gifts that a hacker could never afford on their own when they're spending their hard-earned dough on smaller items and certifications.
Option 13 Proxmark3 Kit
If your favorite hacker is into RFID or NFC and you can afford the $300 price tag, then this is the gift for them. The Proxmark3 from ProxGrind is the go-to tool for sniffing reading and cloning RF tags. It performs functions like offline encryption, online sniffing, default key cracking, data dumping, and running simulations.

Also, it can be powered from a PC or batteries making it extremely versatile and portable. It's compatible with both low- and high-frequency RFID tags such as those used in building access control systems and the US passport. Check out the video below to see how it's done.
Option 14 KerberosSDR (Preorder)
The KerberosSDR is a brand new $150 software-defined radio from the same company that brought us the RTL-SDR. It's the perfect gift for any hacker that started with a cheap TV tuner SDR and is looking to progress up in the SDR world. By combining four RTL-SDRs and running them coherently with the same clock, it's able to function as a direction-finding radio and has radar features that no other commonly available SDR does.

Unfortunately, those shipping right now will arrive a few days late to be given at Christmas (late-December/early-January ship date as of this writing) but can still be a great preorder gift and show the value of delayed gratification. You can find out more detailed information about the project on the RTL-SDR website.
Option 15 LimeSDR
LimeSDR is a powerful upgrade for anyone interested in software-defined radio that doesn't already have a HackRF One. With a frequency range of 100 kHz to 3.8 GHz, it has half the bandwidth of the HackRF One but provides substantially higher resolution data and is full duplex, meaning that it can send and receive signals simultaneously. However, at $299, it will cost you a pretty penny. For those that already have the HackRF One, it is still a good gift if they can make use of the full-duplex capabilities.
Option 16 Hak5 Essentials Field Kit
Hak5 makes some great products, and if your favorite hacker hasn't been indoctrinated yet, then get them started with the Hak5 Essentials Field Kit.

The kit contains all the essential networking hacking tools such as the USB Rubber Ducky (seen earlier in this guide), the LAN Turtle, and the WiFi Pineapple Nano. The LAN Turtle is a useful tool for packet sniffing and man-in-the-middle attacks on wired networks whereas the WiFi Pineapple does the same for wireless networks. The Pineapple also functions as a rogue access point emulating a legitimate access point and luring unsuspecting victims to connect to it.
read more Holiday Gifts of 2018 Here: https://null-byte.wonderhowto.com/how-to...8-0190203/
I have an easy option for installing the Raspberry pi by using FastestVPN 
OpenVPN for Raspberry Pi  
This tutorial has been created on Raspberry Pi with Desktop based on Debian Stretch version 9.
---
Step #1: Download Fastestvpn_ovpn files from 
Step #2: Go to your 'Downloads' folder and extract the downloaded folder.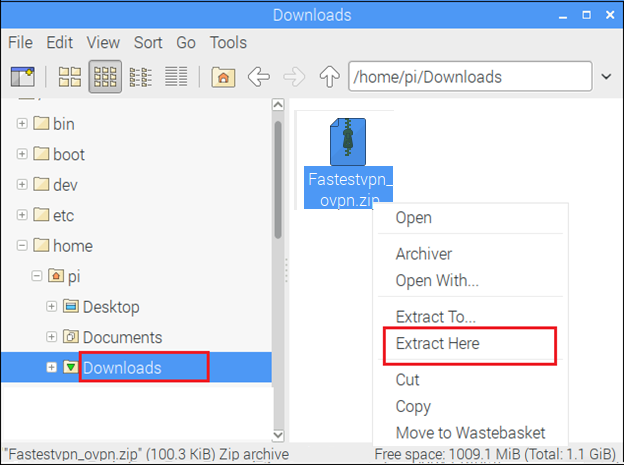 ---
Once it is extracted, you can see two separate folders there TCP_Files and UDP_Files for configuration files of TCP and UDP servers.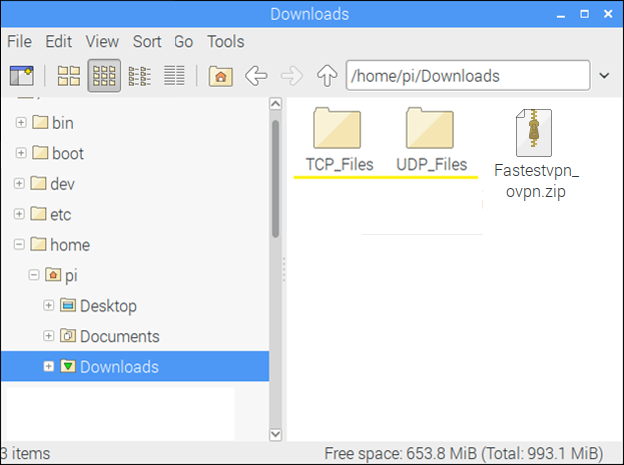 Buy VPN for Raspberry Pi
Step #3: Now you need to update the package repository. For that, open terminal and enter following command line.
sudo apt-get update
It will update the package repository.
---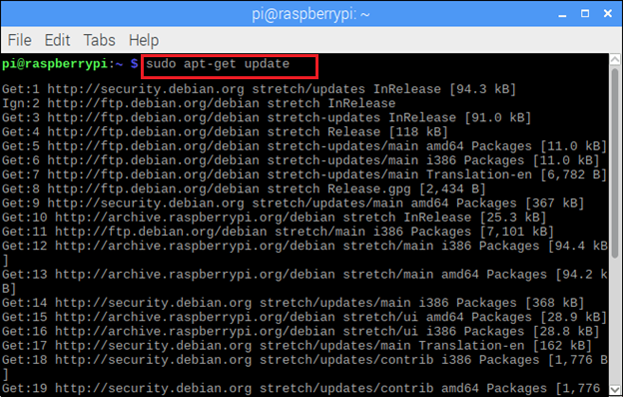 ---
Step #4: Now you need to install OpenVPN. In the Terminal, Enter these commands:
sudo apt-get install openvpn
Enter y for confirmation. OpenVPN will be downloaded shortly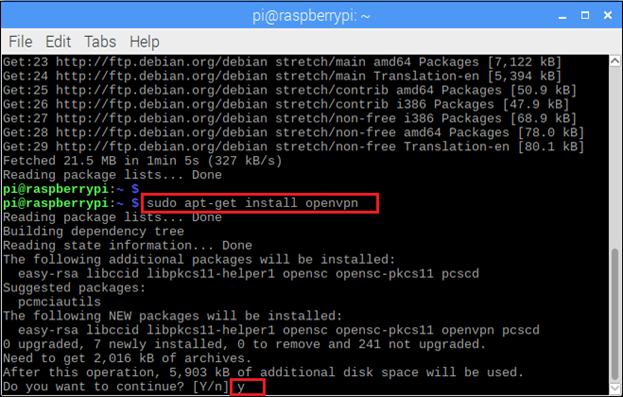 ---
Step #5: Now you need to access OpenVPN TCP or UDP config files directory. Write these commands in terminal and press 'Enter'.
Quote:cd Downloads
cd UDP_Files   (OR cd TCP_Files whichever protocol you want to connect to)
ls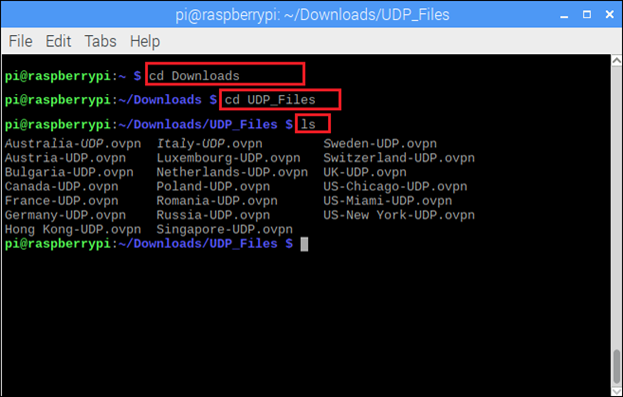 ---
Step #6: Write sudo openvpn [Your desired server] from the list above.
Example: sudo openvpn Australia-UDP.ovpn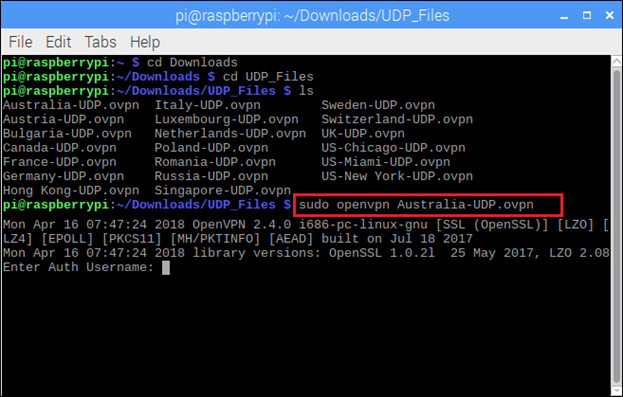 ---
Step #7: It will ask for your credentials. Write your "FastestVPN Username" and "FastestVPN Password" and press "Enter".
Note: You might have a problem while adding "@" sign in your username. If it happens then press shift + ' to add this sign. [Or you should update your keyboard layout for Raspberry Pi]
---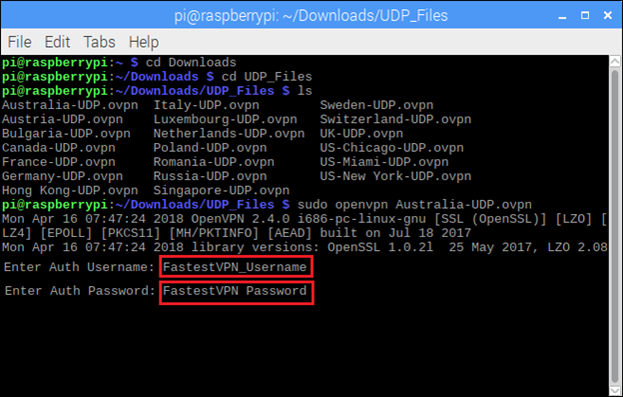 ---
Step #8: Once the yellow highlighted message appears, that means you are connected.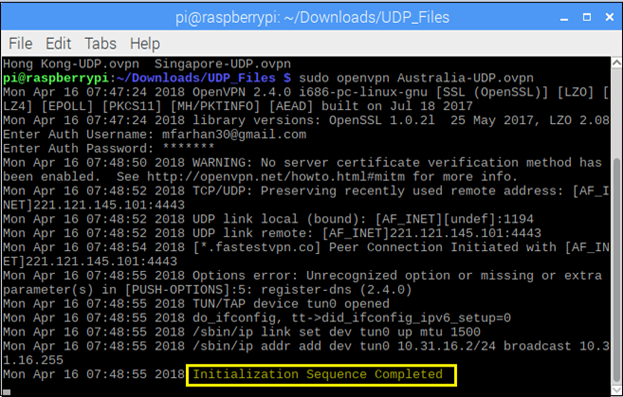 ---
Enjoy Complete Online Freedom with 
FastestVPN
 Speed
FastestVPN offers various features ranging from Data Protection, NAT Firewall, Ad Blocking, Privacy, Malware Protection, Fastest Streaming and lots more.
The Most Highlighted Categories are;
VPN for Xbox
VPN for Germany
VPN for Linux
VPN for router
VPN for torrenting
Best Kodi Addons
Users browsing this thread:
1 Guest(s)